Sun Nov 06, 2011, 11:40 AM
Hollud
Horse.


Posts: 1,177
Joined: Jan 2005
Reputation: 0
RE: PS3 or XBOX360 ?
Nintendo is probably more prominent with their handheld consoles rather than their full-fledged living room consoles.

We might have to wait and see how Wii U turns out, given that its hardware is probably in leaps and bounds ahead of the PS3 or Xbox360. The UI might need a bit of refresh, but we must eventually realise the goal of Nintendo. They target audience is the family-oriented casual gaming crowd, not the hardcore BOOM-BOOM-EXPLOSHUN crowd. They have had a couple of good innovations, but they do need to do a bit of catching up, especially with Kinect and Move just sweeping the stands.
---
Hollud.

Simply, horse.
Mon Nov 07, 2011, 05:31 PM
Theshadows64
I Am Anyone... hehehehe...


Posts: 684
Joined: Aug 2008
Reputation: 0
RE: PS3 or XBOX360 ?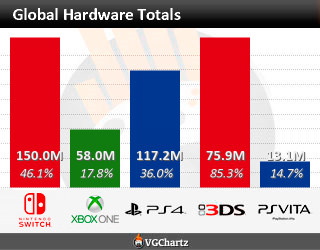 nuff said XD
---
Mon Nov 07, 2011, 05:38 PM
_snickers_
Hunter


Posts: 100
Joined: Nov 2011
Reputation: 0
RE: PS3 or XBOX360 ?
Snickers says:
Then I shall make a new thread next week putting all those consoles... :3
---
Thanks to myself for this siggy!
User(s) browsing this thread: 1 Guest(s)